A wedding is a very special occasion in everyone's life. Especially, in India, this ritual is celebrated with great enthusiasm and excitement. The whole journey starts when the bride and groom exchange a beautiful piece of jewellery on their engagement day. And on the wedding day, the Indian bride is decorated with stunning jewellery accessory from head to toe.
The jewellery enhances her beauty and makes her the gorgeous women of the day.The taste of jewellery may differ from person to person and from tradition to tradition. Some brides opt for gold jewellery while some love to dazzle in diamonds and pearls. As it is a dream of every woman to look like a princess on her wedding day, jewellery does the job of making that dream come true. Also, as the wedding jewellery is to be bought once in a lifetime, why not buy the best and worth jewellery?
Are you planning to get the best jewellery? Confused about your design and metal choices? Don't know what works the best for you? How will you manage the whole jewellery shopping? If yes, you are in right place at right time. In this article, we will share with you few easy tips on how to choose the best wedding jewellery.
Let's check out what works the best for you
Look out for jewellery 6 months before the wedding
Well, don't be surprised you read it right. It is very important to start shopping for your wedding jewellery at least 6 months before the actual wedding date. Aim to have your entire wedding look ready 3 weeks before the big day. Keep enough time for the changes, is there are any. If you are a choosy and picky person, there are chances that you might take longer to get the jewellery of your choice. The best solution for this problem is to visit a store from where you have bought jewellery before. There may more chances of finding something you like.
Get done with your clothes first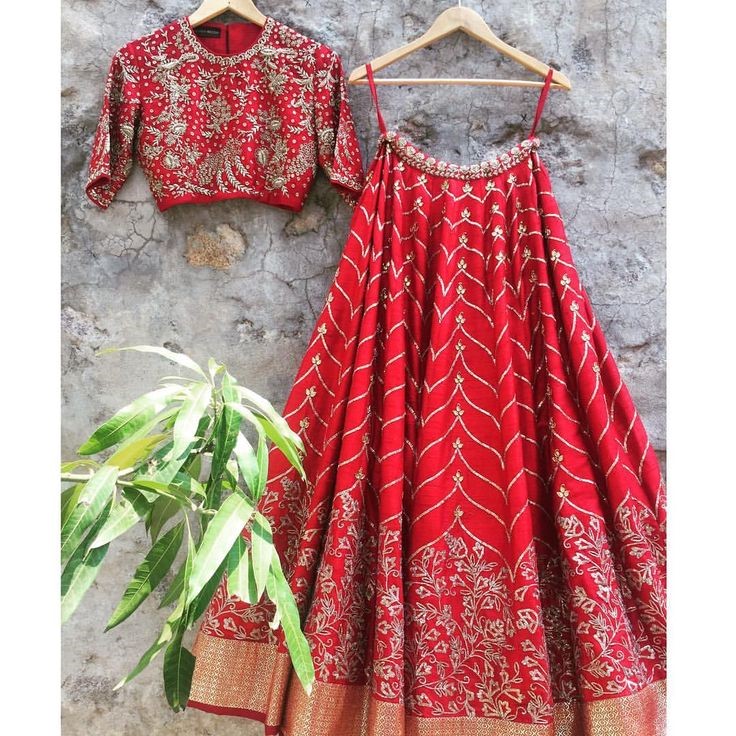 Image Source:- Pinterest
Begin your big day shopping by first buying the clothes and then heading towards the jewellery. According to the whole wedding planning and events taking place, choose the clothes and then get jewellery for it. If you buy your jewellery first there are chances that it would not go with your outfit as you thought. For example, if you buy a boat neck choli, then a choker necklace would not go with it.
Have a jewellery budget
In the whole wedding budget, keep an amount aside for your wedding jewellery. Try to keep a small buffer amount, so that you can make changes whenever you fall for a high-end jewellery piece (as all women do). Also, you should consider what heirlooms you are going to buy for your mother and mother-in-law so that you do not end up buying the same.
Take your fabric or picture of your outfit along
Whenever, you step out of the house for buying your wedding jewellery, make sure you have a fabric or picture of the outfit with you. Use this to compare and match the metals and color of the jewellery you are planning to buy. The gold embroidery of your saree or lehenga should match the metal just like it belongs together. The picture and fabric will help you make a wise decision.
Get reusable jewellery
When you are picking your bridal trousseau, make sure you to pick out stuff that you can use even later sometimes. So, if you are planning to buy a heavier neckpiece just for the big day, it might not be worth it. Instead what you can do is go for interchangeable jewellery, which is flexible and can be worn on other occasions as well. There are many brands out there that have detachable jewellery, you can try that even. Also, these would save some of your money.
Keep your personality in mind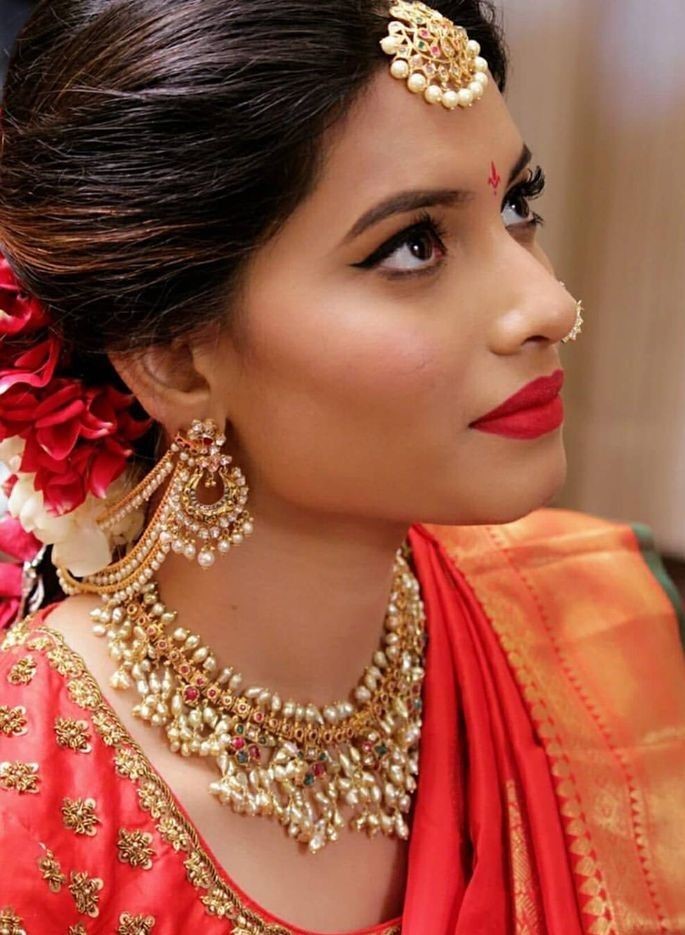 Image Source: Pinterest
While choosing the jewellery, it is very important to keep a check on your personal appearance. Something that looks terrific on a model not necessarily will look great on you. You need to know what will best suit your personality. For instance, if you have a wider jaw, you should choose long earrings instead of the studs.
Choose earring according to the hairstyle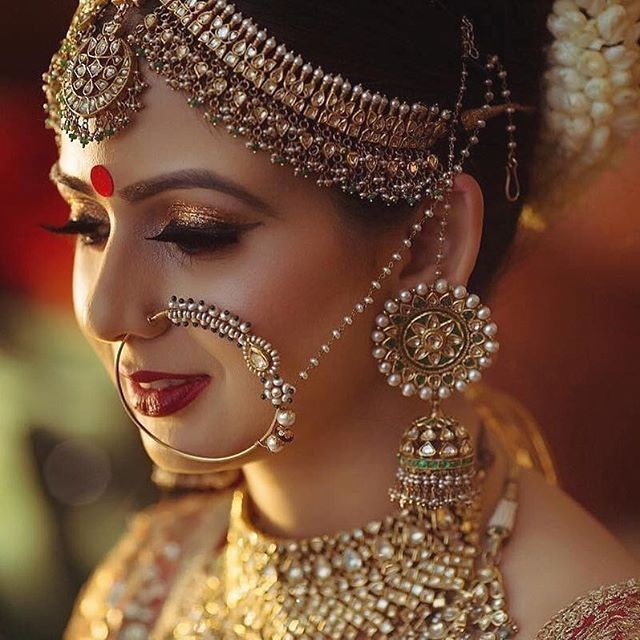 Image Source: Pinterest
When you choose the pair of earrings, you need to keep your hairstyle in mind and then choose. Like, if you are planning to keep your hairs down, you can go for long earrings. And if you are planning to tie a bun, opt for medium length earrings which will make you look more elegant.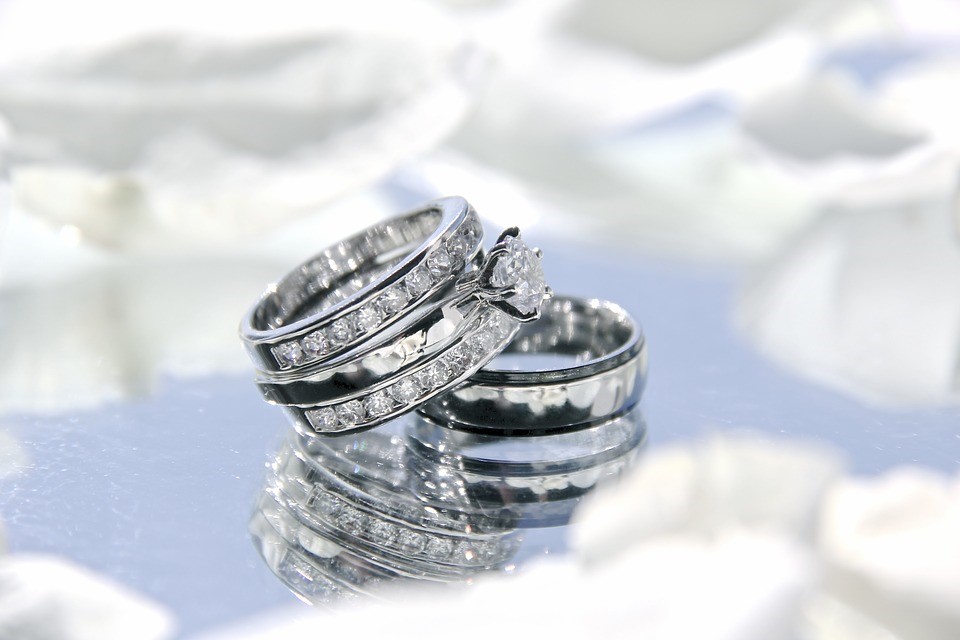 The most important piece of jewellery in your whole wedding jewellery is the engagement ring. Choose it wisely; go for something you really love whether it is a solitaire, diamond or plain gold. As this is something you are going to wear all your life and is going to be on your finger at all times.
You must keep your entire jewellery ready before the dress rehearsal. Wear the whole jewellery from head to toe with your bridal outfit and see how the entire look looks like. If there are any changes that you want to do, you can do it beforehand. So you are ready to face your big day without any hustles.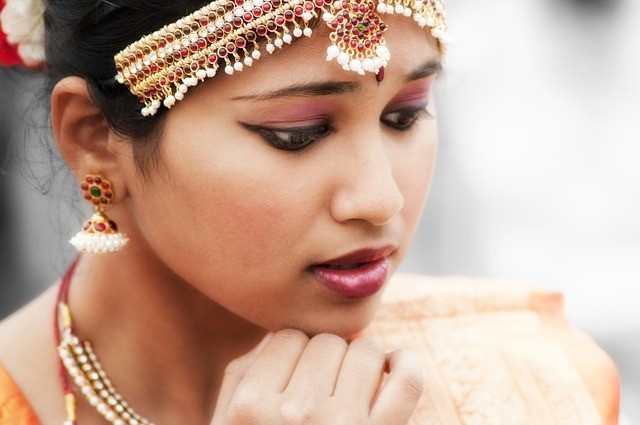 A wedding is a big occasion and everything needs to be perfect and elegant. But what is more important of all is to be you. Just try to be yourself and not fake just for the sake of the occasion. If you are not someone who likes to dress up a lot or does not like heavy jewellery, just go for something you like. Keep your jewellery simple, this will enhance and define your personality well.
These are the few tips that will help you get perfect jewellery for your wedding. Do let us know how useful this article is for you.