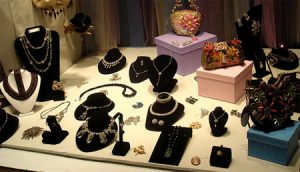 Jewellery can be any decorative article made from made up of gemstones, metals, or hard organic material which is a result of superior craftsmanship that is worn by anyone. There are countless types of jewelleries which are as old as 5000 years. Jewellery can be worn almost all part of body right from toe to hairs. Here is explanation about each type of jewelleries.
Diamond Jewellery – Diamonds may be worn in all sorts of jewellery including rings, bracelets, necklaces and earrings.
Bridal Jewellery – This Jewellery type is meant just specially for the weddings. Usually, this includes similar earring set and necklace matching with the theme of wedding.
Vintage Jewellery – Vintage jewelry is typically recognized with a specific era and comprises the historic Georgian and Victorian, and Edwardian design and Art Nouveau periods as well as the Retro, Art Deco, Mid-Century, Contemporary periods and Modern periods. Vintage Jewellery includes getup or any type of valuable or antique pieces.
Pearl Jewellery – Pearls are the hard and shiny stones formed by the tissues of oysters of freshwater, the sea or cultured which are combined with metal earrings, bracelets necklaces, and more.
Gold Jewellery – Wide range of gold jewelleries are available which can be put on almost every part of body. For Indian women gold is the most precious jewellery item.
Silver Jewellery –Silver jewellery makes a simple, calm and sensitive presence. The history shows that silver is the sign of purity and clarity.
Men's Jewellery – Jewellery is not only meant for women's. Male and macho type of Jewellery includes rings, necklaces (gold and silver chains) and bracelets.
Gemstone Jewellery – Jewellery with variety colored precious stones which are not diamonds. They come in different costs depending upon artificial stones and natural stones. Natural stones are costlier. But the presence of different gemstones gives an awesome look to your outfits.

We provide Jewellery Photography Service in Mumbai, If you need such services then please let us know.